The Hague Public Library open again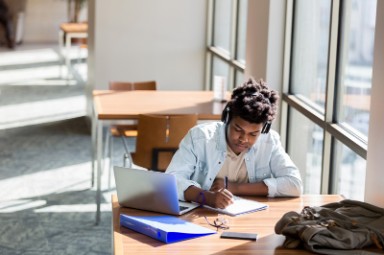 You are welcome to visit the library again! The recently announced relaxation of the coronavirus measures means that from Thursday 19 November all branches of The Hague public library will again be open for borrowing and returning books and other library materials. In some branches it will also be possible to make an online booking for a study space.
You may visit the libraries again during the amended opening hours. For the time being, however, the service will remain limited. It will be possible to use study areas again in eight of the city's branches, provided that these have been booked in advance online.

Study spaces only available with an online booking
From Thursday 19 November study spaces will again be available, divided into two time slots per day, in the local libraries in Escamp, Leidschenveen, Scheveningen, Segbroek, Transvaalkwartier, Wateringse Veld and Ypenburg. It was already possible to book a study desk in the Central library but the number of time slots has been changed from one to two slots per day. You are kindly requested to book no more than one slot per day so that as many people as possible can use the library to study.
Further information on how to book a study space can be found on this page.

Homework supervision and window times
Homework supervision for secondary school pupils has already begun for those who were already taking part. Unfortunately it is not possible to apply for this at the moment, due to the permitted group sizes. The window times previous introduced that enable a library in every district to remain open for an additional hour specially for vulnerable groups, will also continue to apply.
Face mask requirement
A mandatory nationwide face mask requirement will apply inside all public buildings from 1 December 2020. This means that it will also be mandatory to wear a face mask in all our branches. Until now people have only been strongly urged to wear a face mask, in anticipation of the coronavirus legislation.
We will keep you posted!
The situation, and thus national policy on COVID-19, is constantly changing. We will keep you informed of how this affects the services of the library via the website and through our social media channels.